Home
The 2015/2016 season is here. Come join us!
We have had our first practice of the season Monday, September 14, 2015. The choir is looking forward to the new season of mixed genres of music working on the theme of Pop through the Ages. We will be singing popular music in the styles from different eras and covering a lot of musical ground. There will be some jazz/swing numbers, some classical (Latin) pieces, some more modern popular songs and other pieces well.
Regular choir practices are held Monday nights (7:15 to 9:30 pm) at the Lutheran Church of the Master in Airdrie. We are accepting registrations in person at regular rehearsals during the month of September. For additional information on registration and a copy of the registration form, please visit our Registration page.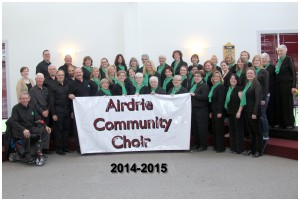 ---