The 2016/2017 choir season has ended. The choir would like to thank all the people who helped us make this season a success, from those who donated time, money or goods to the choir and of course our wonderful audience! 2017/2018 looks to be an exciting season of change. We will have a new director and we can not wait to perform the new music for you. See you soon!
Interested in joining the choir?
For anyone interested in joining the choir this season, regular choir practices are held Monday nights (7:15 to 9:30 pm) at the Lutheran Church of the Master in Airdrie. No auditions are necessary for joining during September. For additional information on registration and a copy of the registration form, please visit our How to Join page.


Note-able Run & Walk Apr 29 2017 (Results)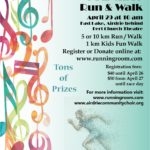 Please see Noteable Run 2017 – run times