Hope you had a great summer! We are looking forward to starting our 2017/2018 season with our new director Justin Macosky. We plan on presenting you with a mix of fun favorites and classical pieces during our spring concert series around the theme "Classics and Colours!". But first we will have a good time at our Christmas Singfest with an emphasis on Canadian Christmas pieces in honour of Canada 150.
The fun will begin with registration Monday, September 11, 2017 at 7:00 pm followed by our first practice of the season.
Interested in joining the choir?
For anyone interested in joining the choir this season, regular choir practices are held Monday nights (7:15 to 9:30 pm) at the Lutheran Church of the Master in Airdrie. No auditions are necessary for joining during September. For additional information on registration and a copy of the registration form, please visit our How to Join page.


Note-able Run & Walk Apr 29 2017 (Results)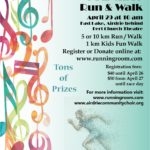 Please see Noteable Run 2017 – run times