Home
Come Join Us for Singfest, Sunday Dec. 11, 2016 2:30 pm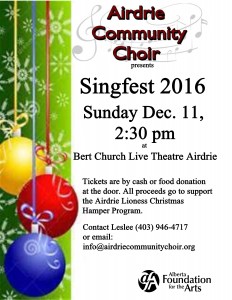 Singfest is our annual Charity Christmas Concert held to benefit the Airdrie Lioness Christmas Hamper Program. We will have several fabulous guests (new and old), sing along Christmas Carols during breaks in the concert and generally have a good time all to help out this worthy cause. Tickets are by cash or food donation at the door. Come see us at Bert Church Live Theatre, Airdrie Sunday Dec. 11, 2016 at 2:30 pm. Doors open to the public 1/2 hour before the concert begins.
Interested in joining the choir?
For anyone interested in joining the choir this season, regular choir practices are held Monday nights (7:15 to 9:30 pm) at the Lutheran Church of the Master in Airdrie. No auditions are necessary for joining during September. For additional information on registration and a copy of the registration form, please visit our How to Join page.