Justin Macosky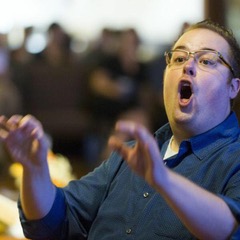 Justin Macosky loved choral music from a young age. He spent eleven years singing with the Mount Royal Family of Choirs, touring across Canada and to Mexico. During his time with the Mount Royal Youth Choir, he was a student at Central Memorial High School in the Performing and Visual Arts Program in vocal music as a counter tenor. With Central Memorial, he sang in the auditioned treble voice Chamber Choir, treble voice Vocal Jazz Ensemble, and the Concert Choir where he composed the piece "Farewell My Friends" for the graduating class of 2007. After high school, Justin was invited to sing with the Calgary Philharmonic Chamber Chorus for Vivaldi's Gloria, and finished the remainder of the season with the chorus.
Starting in 2007, Justin was the choral director for Forest Lawn United Church directing both the adult choir, and children's choir. The children's choir he started went on to record a piece with him for his album, Past, Present & Future (2007). After directing with Forest Lawn, Justin had the opportunity to conduct the Women's Chorus of the Calgary Philharmonic for Holst's Planets in 2009. He also served as Artistic Director and Conductor for the Ismaili Muslim Youth Choir from 2009-2012. Since 2010, he has been the Director of Choral Programming with Hillhurst United Church. In 2013, Justin began working with the Alberta Choral Federation as the Calgary and Southern Alberta Programming Assistant. He served as tour manager for the Alberta Youth Choir tour in 2013, along with organizing Choralfest South, and Choralfest South Jazz 2013 & 2014. Starting in 2015, Justin began teaching children from birth to six years of age with Gymboree Play and Music of Calgary. He is still teaching with them while in school for Early Childhood Education through Mount Royal University.
As a chorister he has performed with various ensembles at various events and concerts including The Terry Fox Run in Calgary Alberta (1999), World Petroleum Congress Opening and Closing Ceremonies (2000), Junior Achievement Awards Canada (2004) Josh Groban Closer Tour (2004), Maritime Music Festival (2005), Rocky Mountain Music Festival (2006), Musicfest Canada (2007), Entangled Liaisons (2008), Mendlesohn's Elijah (2008), Karl Jenkins' Stella Natalis (2013).
Justin's directing skills have culminated in various events including Forest Lawn United Church's 50th Anniversary Celebration (2009), Stage & Screen: A Night of Award Winning Music (2015), and Encore! (2017).